Summit Sixpence 2-tone bracelet

Product Code: CASI 37312
Availability: In Stock
The Summit Collection stainless steel case has gold plated highlights with raised Roman numerals around the bezel and a scratch resistant sapphire crystal. A precision Swiss quartz analogue movement will provide years of reliable time keeping.
A genuine sixpence coin is featured as the dial face and available in your selection of years from 1910* through to 1963. The coat of arms design shows a shield representing each state with a kangaroo and emu chosen because neither animal can walk backwards supporting the slogan 'Advance Australia'.
The sixpence was not minted in 1913, 1915, 1929, 1930, 1931, 1932, 1933, 1947 and 1949. A Commemorative dial will be featured in these years and from 1964 to the present.
• Genuine sixpence coin or commemorative dial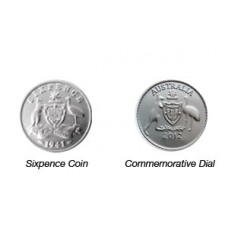 • Swiss movement with sweep second hand
• Stainless steel case and bracelet with push release clasp
• Scratch resistant sapphire crystal
• 100 metres water resistant
• 3 year international warranty against manufacturing defects
*Extra charges apply to coins before 1930
The high standard of each Coinwatch timepiece is maintained with the elegant box design. The sheer luxury of the box ensures a sense of pride when presenting the timepiece as a gift and provides safe storage for your watch when not in use.