Boutique Sixpence Rhodium Chain Bracelet

Product Code: CASI 55111W
Availability: In Stock
Just for the ladies this stainless steel case and chain bracelet with t-bar clasp and heart shaped charm has rhodium plated finish. An white upper dial with silver hour markers and Roman numerals at 3,6,& 9 to compliment the coin centre. A scratch resistant sapphire crystal ensures you will always look your best. A precision Swiss quartz analogue movement will provide years of reliable time keeping.
A genuine sixpence coin is featured as the dial face and available in your selection of years from 1910* through to 1963. The coat of arms design shows a shield representing each state with a kangaroo and emu chosen because neither animal can walk backwards supporting the slogan 'Advance Australia'.
Years after 1963 and when coins were not minted we have permission to produce a commemorative replica dial that will be featured according to your choice.
• Genuine sixpence coin or commemorative dial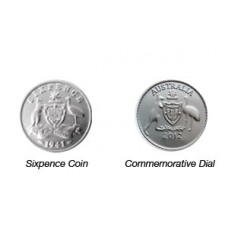 • Swiss movement with sweep second hand
• Stainless steel case and bracelet with t-bar clasp
• Scratch resistant sapphire crystal
• 30 metres water resistant
• 3 year international warranty
*Extra charges apply to coins before 1930
The high standard of each Coinwatch timepiece is maintained with the elegant box design. The sheer luxury of the box ensures a sense of pride when presenting the timepiece as a gift and provides safe storage for your watch when not in use.